SimcenterTM software from Siemens PLM Software addresses complex product engineering by delivering revolutionary improvements in simulation efficiency. With advanced-capability 3D simulation technologies and a comprehensive range of CAE applications, Simcenter offers new methods that increase realism and deliver better insight. Simcenter 3D captures expert knowledge and best practice workflows, enabling engineers and analysts to collaborate on a platform that accommodates all aspects of functional performance and connects to design, system simulation, test and data management.
Description
LMS Simcenter 3D delivers a unified, scalable, open and extensible environment for 3D CAE with connections to design, 1D simulation, test, and data management. Simcenter 3D speeds the simulation process by combining best-in-class geometry editing, associative simulation modeling and multi-discipline solutions embedded with industry expertise. Fast and accurate solvers power structural, acoustics, flow, thermal, motion, and composites analyses, as well as optimization and multi-physics simulation.
Simcenter 3D is available as a standalone simulation environment. It is also available completely integrated with NX delivering a seamless CAD/CAE experience.
ADVANTAGES
Accurately predict product performance
Enhance your team's flexibility and throughput
A complete pre- and postprocessing environment
Multidiscipline simulation and optimization
Intelligent, complete models for complex products
Fast and Efficient Pre/Post
Simcenter 3D drastically reduces the time you spend preparing, evaluating and updating simulation models.
Accurate Multi-discipline Simulation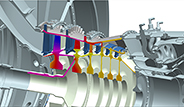 Simcenter 3D integrates world-class multidiscipline together in one environment to streamline the development process.
Open and Extensible Environment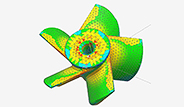 Simcenter 3D lets you capture and automate routine CAE processes to speed throughput and distribute expertise through your organization.
Solutions for Aero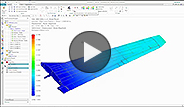 Simcenter 3D supports many capabilities that are critical to the aerospace industry, such as linear and nonlinear simulation of composite materials.
Solutions for Auto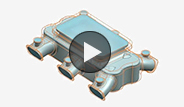 Simcenter 3D helps automakers achieve quieter, smoother vehicles using simulation for noise, vibration and harshness (NVH).
Watch the video >>
Solutions for Electronics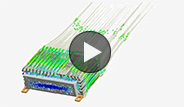 Simcenter 3D streamlines thermal-flow multiphysics to help electronics companies predict how well cooling systems will perform.
Solutions for Machinery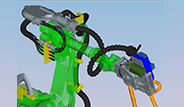 Simcenter 3D lets you co-simulate 1D control models combined with 3D simulation to understand how performance of controls will impact mechanical operation and vice-versa.
LMS Simcenter 3D including:
Pre/Post
Reduce the time you spend preparing analysis models, and spend more time evaluating results. Quickly move from multi-CAD geometry data to a complete, run-ready analysis model using unique tools for:
CAE Geometry Editing
Comprehensive Meshing
FE Assembly Management
Multi-CAE Environments
Simulation Results Post processing and Reporting
Structural Analysis
Accurately simulate a wide range of structural analysis problems including:
Linear and Nonlinear Analysis
Dynamics
Durability
Noise, Vibrations and Harshness (NVH)
Acoustics Analysis
Simcenter helps you minimize noise or optimize sound quality in designs by simulating interior and exterior acoustic radiation. Simcenter 3D's technologies for acoustics include:
Finite Element Acoustics
Boundary Element Acoustics
Acoustics Modeling
Composites Analysis
Simcenter 3D speeds the entire process for simulating laminate composite materials through a seamless connection to composites design, accurate solvers, and comprehensive post processing. Composites analysis in Simcenter 3D includes:
Efficient pre- and post processing for composites
Powerful best in class solvers
Progressive damage growth simulation
Manufacturing process simulation
Thermal Analysis
Evaluate the thermal characteristics of your products using best-in-class thermal analysis capabilities for:
Conduction
Convection
Conjugate Heat Transfer
Radiation
Thermal Modeling
Flow Analysis
Rapidly create fluid domains for complex geometries and perform computational fluid dynamics (CFD) analysis to understand fluid flow effects that influence your product's performance, such as:
Compressible Flow
Incompressible Flow
1D Fluid Networks
Non-Newtonian Flow
CFD Modeling
Motion Analysis
Gain more accurate insight into product performance by using real CAD geometry to conduct multibody dynamic simulation, including capabilities for:
Rigid Bodies
Flexible Bodies
Interference Checking
Co-simulation with Control Systems
Multiphysics
Streamline the process of multiphysics workflows through a single, integrated environment that reduces errors and increases productivity for:
Thermal-Stress
Fluid-Structural
Thermal-Fluid
Structural-Acoustic
Motion-Structural
Engineering Optimization
Reduce component weight or find the right combination of parameters to improve product performance through comprehensive optimization capabilities, such as:
Geometry Optimization
FE Parameter Optimization
Simulation Data & Process Management
Ensure your analysis models are up-to-date with the latest design and that you know the status and data traceability through the entire simulation process through:
Teamcenter Integration
Performance Requirements Tracking
Simulation Automation & Scalability
Increase the output from your simulation team and improve team flexibility through a unified and scalable simulation environment that can:
Capture and automate routine simulation processes
Scale across different simulation skill levels
This post is also available in:
Tiếng Việt
Brand
Siemens
Siemens PLM Software is a world-leading provider of product lifecycle management and manufacturing operations management software. We help thousands of companies realize innovation by optimizing their processes, from planning and development through manufacturing, production and support.
This post is also available in:
Tiếng Việt